gordonians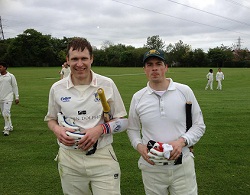 The scorebook will say this game was a draw but that would scarcely do justice to the superlative batting display of new Cullis star Gary Steward who hit a second hundred in as many games.
The toss was decisive on a cloudy day at Countesswells and when we lost and were put in we knew quick runs would be vital against a team well known for their ultra defensive batting style.
Submitted by
delrick
on 11 June 2012 - 2:34am.
You can only play what is put in front of you, and Portcullis followed up last week's record 299 at Huntly by bowling out an under strength 3rd Gordonians for just 15 runs.
We won the game by 10 wickets, with 13 runs off the bat and 3 wides. Nair took 5 wickets with Maidment taking 3. Old man Collinson took two good catches at mid off the other catches by Kannan and junior Collinson. There was a splendid run out by junior Collinson after a terrific throw in by Cox. Bryce and Collinson senior saw us through with Bryce top scoring with 10 runs. The match was played in good spirit by both teams. Former Portcullis player Tarun Dureja was in the Gordonians side, as were Portcullis players Andy Leathem and Graham Mowat who had been loaned to the visitors at their request to enable the game to go ahead.
Submitted by
stephen
on 23 May 2010 - 2:52pm.