cup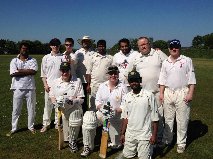 Sheddocksley was host to Portcullis's first cup game of the 2012 season. The sun was hammering down on a much changed wicket from that of two weeks ago which then was almost deemed unplayable. However it was quite the contrary as the wicket proved to offer help to seam and spin.
Submitted by
delrick
on 5 June 2012 - 5:44pm.
Bogbeth Park lived up to its name today as Portcullis's flying early season form came unstuck amongst the mud and long grass of Kemnay's home ground.
Hopes were high coming into the game after the previous days victory and when Captain Nair won the toss and elected to bat PCC were looking to set a good target.
Submitted by
stephen
on 7 June 2010 - 8:21am.