huntly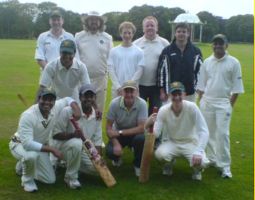 There were no chants of "Stupid Boy!" around Duthie Park on Saturday as Portcullis resoundingly didn't panic and recorded their sixth win of their season. Recent recruit James Pike, opening the bowling, took his first wickets for the team as Huntly Highlanders were held to a modest score which was chased down with what turned out to be relative ease.
Submitted by
delrick
on 6 September 2010 - 11:26pm.
Portcullis posted their highest total at Huntly today scoring 299 runs for 8 wickets.
Portcullis lost the toss and were put in to bat. Huntly took an early wicket, before Ranjan and Maidment started to score freely. Maidment reached 45 when he tried to smash a six but played on to his stumps, Maidment had 6 fours and 2 sixes in his total. Kris came in and he and Ranjan quickly kept the total going with Kris taking the majority of the bowling. Ranjan was next out being bowled for a very steady 39. Nitin then partnered Kris and he made 27 before being caught. There was two other quick wickets before Kris was bowled for a magnificent 93 scoring 12 fours and 5 sixes.
Submitted by
stephen
on 18 May 2010 - 8:20am.