Pleasurable Start for Portcullis!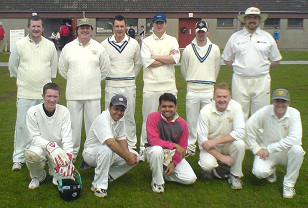 The dawn of the Nair era in Portcullis history got off to a perfect start at Kemnay CC's Pleasure Park on Saturday with a 5 wicket victory. A superb all round bowling effort, led by the irrepresible Andy Maidment, was backed up with some top quality catching and fielding which restricted the home side to a below par 117 all out in the 42nd over. Despite a late scare 65 from Maidment (full of trademark biffs), backed up by 25 from new opener Alex Bryce, took Portcullis to a deserved victory.
An excellent all round day for the visiting team got off to a flying start when Captain Nair won his first toss of the season and put the opposition in on a damp pitch which promised to swing. It duly did and wickets were soon falling Maidment proved hard to get away and was the pick of the bowlers finishing with 4-32. Ex skipper Paul Brown, returning to the team after injury, showed his arm has lost none of its skill in returning 3-15, including an excellent caught and bowled and Captain Nair himself returned at the end to wrap up the innings with 2-21. Special mention to our new upcoming stars Nitin Shetty who dazzled all with some excellent catching in the deep and Ruari Collinson who is fast making the wicketkeepers place his own with some excellent catching.
After some excellent teas from our hosts the reply began. Bryce set out his stall early to keep out the opening bowlers with match secretary Michael Fyffe bowling well. Collinson Snr got the bowlers worried when he lashed his opening ball for 4 but then got bogged down on a boggish pitch before being bowled. That merely the stage for the fire works to begin. Maidment played and missed initially before "expressing himself" and hitting out. Kemnay slow bowler Graham Watson and the young but talented Rahul were quickly hit out of the attack as Maiders launched into the slow stuff with gusto. Five 6's and four 4's at a strike rate of 125 knocked the stuffing out of Kemnay. All this time Bryce was still playing and occupying the crease before he too began to hit out finishing with 4 fours.
The quick dismissals of Maidment and Bryce (caught and LBW respectivly) with the score over a hundred and victory in sight triggered the trademark Portcullis collapse and a few nervous moments. As the Kemnay bowlers sensed a turnaround Kris and Nitin (2no and 11no) kept their heads and led the team over the line with some sensible batting to spark the celebrations.
An excellent all round display against some well mannered opposition, bodes well for the season and the tougher challenges ahead.
Sadly this victory marked the last appearance of Portcullis stalwart Iain Wilson who is moving away to travel the world. Despite not being required to hit the winning runs we all wish him well for the future.
Submitted by
delrick
on 24 April 2010 - 9:34pm.