Kannan Calls Time on Captaincy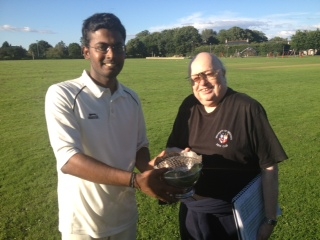 After three successful years at the helm, popular Skipper Kannan Vijayakrishnan sent shockwaves through the Portcullis Towers by announcing his wish to stand down from the demanding role as Skipper of Portcullis.
This news will come as a massive body blow to the Portcullis faithful as they renew their season tickets (cost 0 pence once again thanks to Treasurer Bob Adie's prudence!). Had the club had shares in the stock market, many City analysts would have predicted shockwaves would have rippled through the City that would have gone off on the Richter scale!
On a more serious note, Kannan's reign as Skipper has been a golden period for the club. Promotion to Grade Three, the 2012 Johnston Rosebowl victory and an all-time highest ever League Position of 3rd in Grade Three were achieved during his time at the helm.
Over his three seasons in charge, Kannan captained Portcullis in 38 matches all told. His record of 24 wins, 3 draws and 11 defeats stands proud in the Portcullis annals. With five of those defeats happening in his first six matches in charge, the statistics are all the more impressive. He leaves the post in a far healthier position than when he first took it on.
After three seasons at the helm, Kannan deserves to take a step back and concentrate on his own cricket. From being on the inside looking out, he will join the rest of us on the outside looking in. I hope from this fresh perspective he will appreciate, like the rest of us, how good a job he has done if he hasn't already.
As a result the Committee have the unenviable task of seeking a new Skipper for the new and exciting 2014 season.
Submitted by
ronnief
on 10 March 2014 - 10:25pm.