Portcullis Sign Kevin Pietersen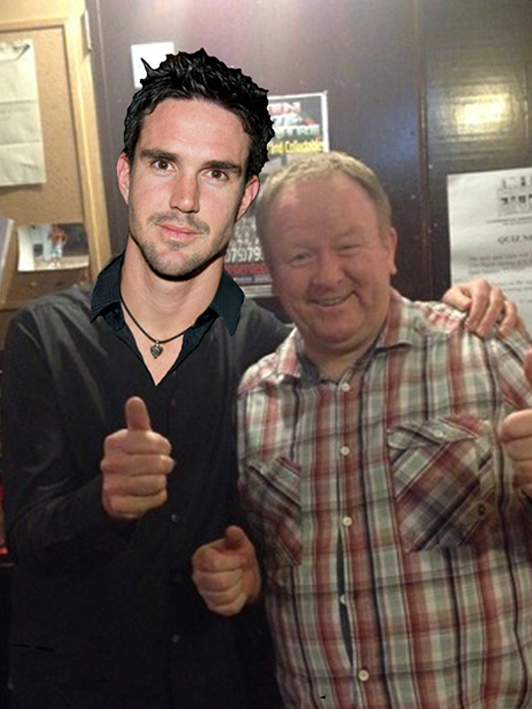 The Cricket World was rocked last night when the Maverick Kevin Pietersen announced he had quit Surrey CC to join up with Aberdeen cricket side Portcullis CC for the 2014 season.
After months of negotiating between Portcullis Officials and KP's agents, both parties were happy to announce this surprising career turn from the former England cricket superhero
At a packed press conference in Aberdeen, Portcullis Secretary Ronnie Falconer said " I am delighted to announce that, after months of careful contract negotiations, Kevin Pietersen has decided to come to Portcullis Cricket Club for the 2014 season. When Kevin was stood down by the ECB and therefore available for the forthcoming summer, we immediately swung into action and I would like to thank my fellow committee members for making this possible." He added "Kevin has played cricket all over the world at the highest level, however I do not think his cricketing experience will be complete until he has played Grade Three in the Aberdeenshire Grades"
Pietersen, sitting to the left of the Portcullis Secretary, was alleged to have said " I am really excited about this change in my cricketing career. When the offer to play in the Aberdeenshire Grades came up I told my agents to complete the move at all costs.
He allegedly continued" At this stage of my career it is natural for me to broaden my cricketing horizons. I have played all around the world in packed grounds like Lord's, the WACA, Sabina Park, the Wankhede Stadium and The Oval, however my career will not be complete till I have played at Sheddocksley and Duthie Park. I also want to experience Park cricket at it's best. I feel I need to learn how to slide-stop on a dog's egg and I look forward to having my sexuality questioned in robust industrial vernacular by a sweary ned!""
It was not just about the change in venues either.
He allegedly continued " To play alongside the likes of Usman Naseem, Paul Brown and Mitch (Captain Dave Mitchell) is a dream come true!  I am itching to get into the nets and face my teammates bowling. It gets my juices flowing to face the legendary Bob "Whispering Death" Adie and his right arm fast "Chin Music", the right arm mental action of Simon "Mad Dog" Winstanley and the slow medium filth bowling of Ronnie Falconer. Facing bowlers of this quality can only decrease my batting experience and expertise"
Part of the negotiations meant that Pietersen continues to play in the IPL. This was a hot topic, similar to Pietersen's England days, but although he found Portcullis a tough nut to crack, a compromise was reached.
Unlike his England days.
He allegedly explained "When I come back from India, I have to take the lads out on the lash. My treat!! I have also promised to sing 'Peter Pawlett Baby on the karaoke"
According to Pietersen the move was as much about broadening his cultural experiences as well as his cricketing ones.
"The opportunity of spending this summer in the tropical sunshine of Aberdeen was too good to miss. I am really looking forward to participating in the Portcullis team bonding nights. Ronnie's tales of team bonding sessions in The Bridge Bar, The Kirkgate, and McNasty's, are stuff of legend. The final thing that swung it for me was the promise of getting flipped by Portcullis Legend Raoul Sanchez whilst drinking Kraken at the metropolis that is The Moorings Bar. I am a huge fan of the The Harbour as well and I am dizzy with excitement to finally meet Val, the Crown and Anchor barmaid from the series."
On the subject of the forthcoming One-Day International between Scotland and England at Mannofield on May 9th Pietersen did not dodge any questions that came his way.
"I'll be there with the Portcullis boys enjoying the day but I'm not going to tell you who'll I will be cheering on" He allegedly said with a wry grin.
With Portcullis having their first outdoor practice of the season on Wednesday 2nd April at The Links, Secretary Ronnie Falconer would not confirm whether the England legend would be in attendance.
"Wait and see" was the Portcullis's Secretary's words.
The final words came from Pietersen's daughter April. She said, "Dad would have to be a fool to turn this opportunity down"
Submitted by
ronnief
on 1 April 2014 - 9:00am.