Sahoo Guides Portcullis to Fighting Draw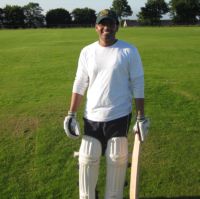 Portcullis, led by a magnificent batting performance by Ranjan Sahoo (87*), managed a draw in a high scoring game at Sheddocksley against a strong Mannofield side.
Captain Nair won the toss and elected to field. Nair and Alan Dobey opened the bowling for Portcullis with Nair taking the first wicket of M.Zanre for 2. The opening spell was tight and was well supported by Nitin Shetty, the first change bowler, who replaced Nair. Runs was hard to come by and Mannofield were 38 for 1 in first 20 overs. After the fall of second wicket, however  Mannofield Grade 1 player S. Rane came in and started playing his natural game and runs, helped by some sloppy fielding, started to flow. Rane virtually took the momentum towards the Mannofield side. Shetty grabbed the prize wicket of Rane who was brilliantly caught at long on by K.Vijaykrishnan for 30. Portcullis looked like coming back into the game after the wicket of Rane as they managed to tighten the bowling and were 118 for 3 in 32 overs. But the last 14 overs gave away 88 runs, helped by the batting of Irfan (68) and A Gowda (55*). The Mannofield innings finally ended on 206 for 7 in 46 overs. Nair and Shetty took 3 and 2 wickets for Portcullis respectively.
In reply Portcullis's start was shaky with loss of an early wicket . Sahoo, who kept his nerve, displayed an innings of great maturity. He paced his innings nicely and played sensibily by taking only calculated risks. He had two 50 partnerships with captain Nair (29) and later on with Kannan Vijaykrishnan (33*) which laid the foundation of Portcullis fight back. The Portcullis innings finally ended on 177 for the loss of 4 wickets with Sahoo and Vijaykrishnan both remaining unbeaten.
Although the bowling was disappointing the batting performance has certainly lifted the morale of the team as we approach the end of season.
Submitted by
delrick
on 17 August 2010 - 5:58pm.