Super Steward Smashes Second Ton!!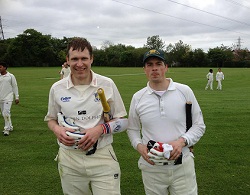 The scorebook will say this game was a draw but that would scarcely do justice to the superlative batting display of new Cullis star Gary Steward who hit a second hundred in as many games.
The toss was decisive on a cloudy day at Countesswells and when we lost and were put in we knew quick runs would be vital against a team well known for their ultra defensive batting style.
Our new Sidearm bowling aids were no use in helping us with the lack of pace from the Gordos attack but openers Gary and stalwart Richard Collinson still hit out and took the attach to them from the start. Richard smashed one early to the point fielder perhaps surprised by the lack of pace which brought in Tony "The Tiger" Padmaraj. He smashed an early boundary before being bowled and that really was as good as it got for the bowlers. Dave Elrick joined Gary and hit and early four before settling in to watch the fireworks from the other end. Gary quickly spread the field and then picked out the gaps easily with a fielding unit not keen to chase the ball. His fifty came up, then a hundred and then 150. Hardly a hint of a chance was given with the closest being a smash to the Gordo's skipper that nearly took his hand off and forced him out of the attack. When we declared Dave was on a career best 38 not out with a partnership of 237. Life was good.
The assistance of General Montgomery was not required to figure out the Gordos gameplan and it was no surprise when opener Amer revealed his blocking routine well remembered from our previous encounter. What was more surprising was when Usmaan hit him on the pads early on and his skipper fired him out LBW. Perhaps he remembered the tedium of the last encounter.
That brought in the number 3 Fedenczuk. Unlike his teammates he wanted to make a game of it and played his shots. His positive approach payed off as he occupied a lot of overs and took 67 runs off our attack. He gave chances  that we couldn't hang onto which probably cost us the game. A sharp catch at slip that Davie could only get a fingertip to, a tough caught and bowled to Jay and an even tougher ball smashed to Raoul at silly point that went like a rocket into his tummy only to bounce out. More pies Raoul.
Usmaan accounted for the other opener with a beautiful piece of bowling. Forcing him back with a quick bouncer he nailed him next ball with a lovely yorker. Next in was Das the Very Young who stood up to the quicker bowlers with a solidity his years would not suggest. He eventually popped one up to Raoul close in and we were on our way. A few batsmen came and went until the crucial partnership between Fedenczuk and Das the Not Quite so Young. They batted for many many overs with a combination of bowlers unable to break them up. They say youngsters love IPL and T20 but not this one who played not a single shot in his stay. When he to eventually popped one up it was a miracle Tony was still awake to take it.
Fedenczuk must have been confident that he had done enough as he skipped down the pitch not long after and was easily stumped. An enterprising innings that shows what could be achieved. He should be made Captain immediately. After that the game petered out to a draw and we all went home vaguely dissatisfied despite our all round performance.
All in all a typical Grade 4 game where the toss was decisive and somehow the team that only lost 2 wickets and scored 133 more runs that the other came away with a draw. Nevertheless our next encounter with Gordos is in the cup where we will see their mettle when they have to chase. Assuming the team is the same of course. Next up Banchory where we will be looking to maintain our undefeated record against a team we haven't played for some years. See you next Saturday...
Submitted by
delrick
on 11 June 2012 - 2:34am.