Dunecht Demolished!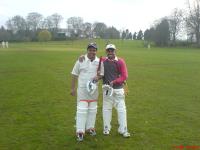 Portcullis continued their fine early season form with a comprehensive 10 wicket win over a weakened Dunecht side. A five wicket haul from Captain Nair and wickets from Dave Cox skittled the home side for 31 before Cullis openers Alex Bryce and Sam Hill knocked off the runs with ease.
The day began with game in jeopardy with Dunecht short of players and PCC MVP holder Andy Maidment stuck in Edinburgh with car issues (more of that later). Credit to the home side though who were keen to play and were lent some Cullis talent to even up the sides. Captain Nair promptly lost the toss and Dunecht opted to bat first on a sunny day.
After on loan opener Mohammed Bari lashed Dave Cox to short midwicket batsmen fell regularly. DCC skipper, Simon Winstanley , resisted briefly with 21 not out but only two bowlers were needed to work through the batting. Kris, who was on a hat trick at one point, picked up 5-8. Mention also to Coxie who picked up 3-22 including that rarity a caught behind.
Openers Bryce and Hill chased down the total in 40 minutes without any alarms with Hill finishing on 14 and Bryce on 9. One of our easier games and all without Maiders who was busy scratching his car somewhere south of Dundee. Donations to the repair fund gratefully received.
After some nice teas a friendly T20 fixture was agreed with the sides swapped round somewhat. In a good spirited game the Dunecht side eventually triumphed in the final over. The PCC side, captained by vice skipper Robert ADDDie, got up to 83 built around 33 from Kris and 16 from Davie Elrick. Although the Maidment factor (he was loaned to DCC when he arrived) had us quaking there was chortling all round when he missed a straight Dave Cox delivery and was bowled. Instead it was the other PCC loan star, Nitin Shetty, who batted through and got the home team some consolation.
A drink in the local hostelry ended a fine day. Huntly next week and Portcullis go into the game in fine form. Mention also to the scorer (me) who did a fine job making the book look perfect. 
Submitted by
delrick
on 8 May 2010 - 9:45pm.