Nair is Best in Grade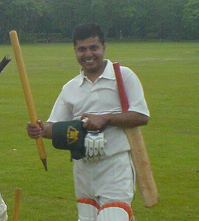 Portcullis Skipper Kris Nair has been confirmed as the best batsman in Grade 4. His average of 52.71 from 10 innings (3 not out) was enough to take the Cope Cup for batting.
The last time any Portcullis player was awarded an individual achievement award was in 1999, when Andrew Prentice and David Bowie won the grade 4 batting and bowling trophies, repeating their achievement from 1998.
Kris also picked up the David Bowie Shield for Portcullis's Most Valuable Player,  picking up a record breaking 1256 points over the season - more than twice the score of second placed Andrew Maidment. Kris played in 13 games, scoring 394 runs and taking 42 wickets.
Submitted by
stephen
on 22 October 2010 - 1:21pm.