Farewell to Chris Owens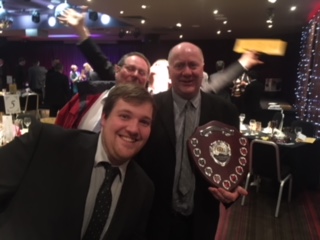 It is with a heavy heart I have to announce the loss of a second player (and a second Chris!) from last season's Portcullis side.
Chris has accepted a promotion from his work which he is pretty excited about. As a result he will now go off back to his native North East (of England) to take up his new post.
Chris has been to the club for two spells –the first one being back in 2013. He played one match, bowled five overs, took a wicket and then broke his thumb. Not a happy memory for the popular Sunderland fellow.
The second spell began last season. A chance meeting at the Umpire's course, with Ronnie Falconer and Andy Philip, had the pair persuade him to give Portcullis another go. This time his term was more successful than previous.
Chris has a fine season with the bat. In eleven innings (with two not outs) the stylish left-hander made a productive 220 runs with the bat in all competitions at an average of 24.44. The finest of all of those innings being his splendid 56 against Crathie in last season's Reid Cup Quarter Final.   A cracker of a Cup Tie saw 379 runs scored in 80 overs and Portcullis lose narrowly by 7 runs.
Chris, with his sometimes sharp right arm outswing, took a further seven wickets (to go with his solitary wicket in 2014) at an average of 31.86 with best bowling figures of 3-33 against Aberdeen Super Kings.
He showed himself to be an excellent fielder to boot, taking five catches as well as possessing an excellent throwing arm. He has the old pro's trick of throwing in high loopy returns when there was no chance of a run-out the n following it up with a rapid flat throw when the opposition batsmen were idiotic enough to take on that mighty arm in the outfield.
It's a shame he has had to leave so soon as he had the monikor FPC (Future Portcullis Captain!) attributed to him. He even skippered with aplomb two matches for the City Centre Green Caps.
Although he moves to Newcastle/South Shields with the very best of our wishes, we hope to see Chris very soon. If the T20 tournament comes off in Edinburgh we hope he can join us for that. If not, he has his ticket for the Scotland v England ODI on June 10th.
We have a celebration drink on Saturday followed by an Indoor match on Sunday at the RGU before he heads down south.
I'm sure you'll all join me in wishing Chris all the best as he embarks on his latest adventure!
You are always welcome back here anytime!
Ronnie 
Submitted by
ronnief
on 14 February 2018 - 10:40pm.