ANYONE FOR CRICKET!!!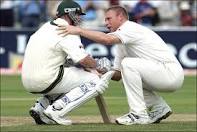 It's that time of the year. Winter (hopefully) is finally behind us. Spring is once again in the air. It's time for Men and Women of all ages to don the whites, dust down the kit bag, oil the bat and do the stretches. It is time to hear willow upon leather, see long sunny days, utter cries of howzat, regale in tales of cricketing derring–do, preferably in a nice environment after the dust has settled and pleasantries exchanged.
Yes folks cricket is back!! Portcullis CC are once again preparing for another season of scintillating cricket and even more stimulating conversation. We'll probably finish up with reasonable cricket and, at best, a good laugh but we can all dream!!
As always Portcullis are always on the lookout for new players. We welcome ALL newcomers to our club. Whether you are a seasoned campaigner or someone new to playing the game come along and join us. We are about to embark on another season of adventurous Grade Three Cricket on a Saturday and recreational friendly cricket on a Sunday and we would love you to join us.
We practice every Wednesday at Duthie Park starting at 6pm. Why not come along?
We are a friendly bunch who enjoy all aspects of the game (especially the social side!). If you fancy giving this cricket malarkey a whirl or are looking to get a regular game, please get in touch. You can either contact us through our website or if you fancy quicker contact text us on 078881347136 or email falconerronnie22@gmail.com. We are happy to answer any of your queries. Please note we do not charge an annual membership fee. Fees are paid on a pay as you play basis.
Submitted by
ronnief
on 8 April 2019 - 9:55pm.