Mowat Mows Mannofield!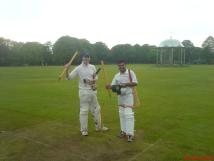 Portcullis's advance on Grade 3 continued to gather pace on Saturday with a resounding victory over Mannofield's second team at Duthie Park. Excellent individual perfromances from Kris Nair, Alex Bryce and new recruit Graham Mowat ensured an 8 wicket victory that keep us firmly in contention for promotion.
An excellent day weatherwise led to us having a bowl first and Captain Kris made the early breakthrough picking up opener Amit with the fourth ball of the innings. Then followed Mannofields play of the day from one B Gamblin. Some lusty blows were causing a bit of concern when Davie Cox stuck out his hand, plucked one of them out of the air like a magician and sent him on his way for 35.
Some Huntly esque defence became the order of the day as the runs and wickets dried up. Then, as if possessed by the spirit of Michael Vaughan himself, Kris tossed the ball to new recruit Graham Mowat and told him to have a go. Never has a cricketing virgin had such instant reward picking up two wickets in his first over in the Grades. Cue scenes of jubilation not witnessed since the Ashes 05. Two catches completed his day and rocketed him up the MVP. Beware the dark horse I say. Who checked his registration?
The rest of the innings took care of itself with wickets for Coxie and Mohammed Bari. The only other score for Mannofield was 21 for M Zanre a feat, which according to comments added to our book by their scorer, is rated as amazing.
Set 147 to win the game the PCC innings seemed under twin threat from aforementioned B Gamblin who flung the ball in at high pace and with chest high bounce and also the weather.
Gamblin quickly accounted for Mohammed and Collinson Snr in an inspired second over which yielded him that cricketing rarity, a double wicket maiden. With the score at 3-2 things were looking a bit dicey. What was not expected was what came next namely what must be a club record partnership for the third wicket of 146 between in form opener Alex Bryce and club skipper Kris Nair. In two hours of batting they took the opposition apart and offered barely a chance. Watchfully keeping in form bowler Gamblin out they took runs from the rest at will. Alex finished on 59 from 94 ball with 10 fours and Kris finished on 76 from 107 balls with 9 fours and a six.
Some of their batting looked seriously first class. Between the two of them they have now scored 357 Grades runs this season with Kris averaging nearly 34.  Any non PCC trolls reading this can take note. They are signed up so hands off.
The events of the day after are barely worth a mention here so lets keep the pressure up on Knightriders. With some key players returning from whatever inconsequential activities they were indulging in we are sure to have a tasty top of the table encounter... Tickets will be on sale soon...
Submitted by
delrick
on 7 June 2010 - 11:29pm.