Sahoo Strikes Back!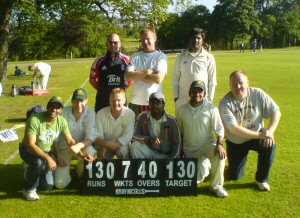 If Superman gains energy from sunlight then todays glorious weather at Duthie Park must have energised Portcullis as we recorded our first league win of the season by beating Mannofield 2nd by three wickets.
Sunshine and sunscreen were the order of the day at DP3 as the Cullis skipper, Kannan Vijayakrishnan, won and the toss and elected to bowl. The force was with us right from the start as Jay Raj bowled opener Amin in the first over. Wickets fell regularly but Mannofields M Narayanan played some excellent shots as he held his team together with a quality 53.
When Rob Owen, fresh from locking himself out of his house, trapped him in front their hopes of a big total vanished. Our four bowlers all finished with wickets including three fers from Rob and Noman Salim. Highlights included a sharp caught and bowled for Jay Raj and the stumps getting knocked over 7 times!!
Half time saw some debate over the total (come on grades teams scoring the book ain't rocket science. DON'T USE BLOODY PEN!!) but we were happy to chase 130.
The Cullis reply got off brightly with Ronnie and Ranjan knocking the ball around. A spell of the yips seemed to affect one of the opening bowlers who sent down numerous wides and prompted the intoduction of spinner A Byrne. His allotment of length balls and looping moon balls threatened to derail the chase and he took 4 for 41. Ranjan stood firm and knocked 53 not out with 8 fours. His was ably supported in the run chase by Nitin Shetty who played well for his 26 and took us to the brink. Loud cheering rang round the park as Bob Adie edged the winning runs.
Gordos next and at the halfway stage Nitin "I'd sell my grannie for MVP points" leads the table. Surely our boys don't need anymore incentive to get out and hit hundreds. Can you imagine the acceptence speech???
Submitted by
delrick
on 3 July 2011 - 12:15am.