Portcullis Man Gates at Duthie Park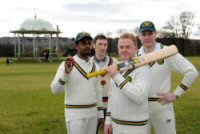 In February the Portcullis committee joined an initiative led by the Aberdeenshire Cricket Association to attempt to persuade Aberdeen City Council not to eject cricket from our spiritual home at Duthie Park.
Whilst the fate of cricket in Duthie Park is still uncertain it appears the publicity generated in the papers may at least have had some influence in  the announcement of construction of three new artificial pitches in Aberdeen. Whilst we welcome the new facilities it would still be out hope to return to our traditional venue in the longer term when the welcome renovations have been completed.
(Picture courtesy of the Press and Journal) 
Submitted by
delrick
on 29 March 2012 - 2:18am.