Portcullis Victorious Again!!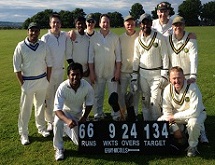 Our first two game double header of the season saw us take on Mannofield for the first time this season at a damp Sheddocksley. It saw the welcome return of club stalwarts Howard Smith and Ranjan Sahoo and a new one off captain as Dave Elrick took the reigns as we managed our resources to cover cup committments on the Sunday.
Another lost toss saw us batting first and batting hero Gary Stewart and scourge of Mannofield Ranjan Sahoo were sent into open. The pitch proved predictably slow especially as they opened up with a dual spin attack. Diminutive leg spinner Andy Grayson proved difficult to get away and turned the ball appreciably thus a day of graft was needed. The worst possible start ensued when Gary hit away and was well caught in the ring and was quickly followed by Tiger Padmaraj who had his stumps rattled. Collinson Jnr was promoted to 4 to show us his new batting technique well refined at training. Unfortunately a first ball yahoo and stumping were not what we had in mind. Back to the sports psychologist Ruari. One must master the pressure of expectation.
A crucial partnership followed between Ranjan and regular captain Kannan Vijayakrishnan as the club demonstrated the new found belief and determination that has shown in our results so far. Solid defence, some big shots against loose balls and, it must be said, some indifferent catching from Mannofield same them eke out the decisive partnership that turned the match. Ranjan went onto top score with 34 and Kannan hit 29. After they went regular wickets fell but we were still solid enough to bat though to the last over ending on 133 all out.
What we thought was an average score was boosted by a heavy shower at half time that may have spiced up the pitch for our seamers. Bowlers Jay and Gary were quickly into their work as Mannofield showed us their game was attacking strokes at all costs. Stumps flew and, unlike last week, the majority of cathches were taken as the pressure caused implosion in the Mannofield batting. Particular shout outs go to Gary Steward who took five wickets with a spell of outstanding, totally committed fast bowling and Jay who took an excellent catch off his own bowling from a skier of the kind that does not have fielders queing up underneath. The highlight, especially as thw writer was the one who put him there, was Howard Smiths decisive contribution in the slips. Mannofield Captain Dave Grayson was looking particularly dangerous at the crease with the bat having hit some big shots to the boundary and our total was suddenly not looking so big again. Then Jay got one to move away which Grayson tickled. The ball dipped low and hard to an initially wrong-footed Howard Smith. Howard managed to readjust and dive low and fast to take a spectacular left handed catch inches from the ground. He was then duly mobbed and looked suitably chuffed. If experience serves that means you now have that position for the next year or so Howard. Top man.
A mention also to Tony "Tiger" Padmaraj who answered the coachs challenge of emulating his hero Swannie by picking up a wicket not just in his first over but with his first ball. You have now earned the right to the Swannie moniker within the team. A honour or a reflection of the state of Indian spin bowling at the moment I wonder?
We bowled them out for 66 and ran out comfortable winners in the end. Our Sunday was called off on Saturday (Wet weather guidelines anyone?) so it look like another maximum effort next week but with team perfomances like this we are going into every game confident of victory. Hurrah!! 
Submitted by
delrick
on 3 July 2012 - 4:59pm.