Hope Springs Eternal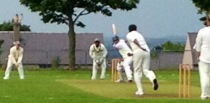 After what has been a tough and long winter, the cricket season comes back with a bang on Saturday.
Portcullis Cricket Club begin their 2013 campaign on Saturday April 20th with a friendly at Gordon Park against the Grade Four champions Ellon 2nds.
The following week sees Portcullis open their Grade 3 campaign with a home match against Turriff. This match takes added significance as not only will this see their first match in Grade 3 since 2007 it also brings a welcome return to Portcullis's spiritual home - Duthie Park.
The following three weeks see Portcullis go to Sheddocksley to play Mannofield, entertain Gordonians 3rds again at Duthie Park and then travel to Countesswells to play Gordonians 2nds
The chase for the Grade 3 title is one that will be a lot tougher this season. For a start the league itself sees no less than SIXTEEN teams. As a result this season sees the clubs only meet each other once during the season.
May 25th sees Portcullis's first dalliance at a cup campaign. A home tie to Methlick 2nds sees both teams bizarrely participate in two cup competitions at once. The winners of the tie go forward to compete in the Reid Cup whilst the losers live to fight another day in the Johnston Rosebowl. This puts Portcullis, as  current holders of the Johnston Rosebowl, in the unusual situation of having to lose their first cup match if they wish to retain the Rosebowl!
With all these fixtures coming up Portcullis, as always, are on the lookout for new members. We are a friendly club who enjoy our cricket and always welcome new players of all abilities. So if you fancy joining our club come along to one of our practices. If you cannot do that but still want to join contact the club via this web site.
Submitted by
ronnief
on 14 April 2013 - 11:36pm.