'Cullis End Season on High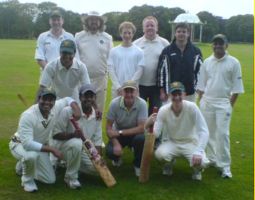 There were no chants of "Stupid Boy!" around Duthie Park on Saturday as Portcullis resoundingly didn't panic and recorded their sixth win of their season. Recent recruit James Pike, opening the bowling, took his first wickets for the team as Huntly Highlanders were held to a modest score which was chased down with what turned out to be relative ease.
The last game of the season had an anti climactic air for both teams as essentially it was a dead rubber. Nevertheless some players on both sides had points to prove and when the Huntly openers added 101 for the first wicket a large total seemed in prospect. That it was not to be was initially down to James Pike. After an indifferent first over he settled into a good line and length and beat the bat on occasion. It was not until a change of ends however that he snared his first wicket having the opener S Hayman caught sharply at cover by the skipper. Shortly after he cleaned up the Huntly top scorer M Hayman (44) with a beautiful yorker that knocked back middle and off.
After that the Huntly scoring rate stagnated and Captain Nair, in a rare moment of inspired comedic genius, decided to give everybody in the team an over. Old Man Adie came on and picked up a quick wicket when the batsman came charging down the pitch to a floaty full toss only to under edge it back onto his stumps. As everyone looked away in disbelief it was hard to know if the bowler or the batsman was the more embarrassed. A comedy over from Davie Elrick followed which was by far the most entertaining of the day. Sadly it will mainly be remembered for keeper Collinson dropping an absolute dolly and earning the lasting enmity of the bowler who will probably never be trusted with the ball again and rightly so.
Despite the joke bowling the Huntly boys couldn't cope with the lack of pace and ended on 164 for 5 off their 46.
After a final burst from Mrs Falconers sandwich factory (outstanding all season it must be said) the reply got underway. Play positively was the instruction and openers Ronnie and Ranjan duly obliged with a flurry of early hitting to put the pressure on Huntly right from the start.
Ranjan, who has batted well all season, hit 28 and the next several wickets all contributed well. Bob Adie, promoted to number three after he threatened to increase the match fee, displayed some true grit in hitting 17, the skipper hit 19 and Kannan top scored with 33. Ruari Collinson, desperate to make up for his earlier drop, hit a career best 19 to take Portcullis over the line. Conclusive proof that you don't need a backlift to score runs.
Our last game next Saturday before the winter hibernation begins should be an entertaining friendly down in the unknowns of Dunfermline. Tickets available now. All together now "The wheels on the bus go round and round....."
Submitted by
delrick
on 6 September 2010 - 11:26pm.