Broomhall or Bust...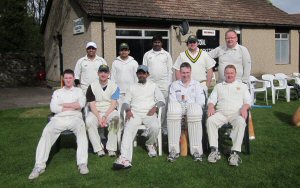 A new year, a new captain and a new locale for Portcullis Cricket Club's season opener this year as the club travelled down on mass to Broomhall Cricket Club in Fife.
A merry journey, ably assisted by a sausage softie at "The Horn" had us down at Broomhall by 12pm despite Bob's SatNav imploding and sending him the wrong way. Our new Captain, Kannan Vijayakrishnan, started what will hopefully be a tradition of winning the toss. In a friendly match of 40 overs with a 6 over max we elected to bowl first.
The start proved very encouraging with openers Paul Brown and Jayaraj Raj keeping their lines tight. Raj made early breakthroughs taking two wickets to leave Broomhall on 9-2 and hopes of a good game on the cards. Sadly it was not to be as the Broomhall middle order revealed their 1st IX qualities and began hammering the bowling to all parts. Our lack of bowling depth was exposed by the 6 over maximum with several of our bowlers having days to forget. Nitin Shetty picked up a fortuitous wicket when one of their batsmen kicked the ball back onto his stumps but apart from that there was little joy to be had as Broomhall racked up a staggering 329 off 40 overs.
Having taken that kind of beating it would have been easy to implode but PCC openers Ronnie Falconer and Ranjan Sahoo took the battle back to Broomhall with a opening stand of 64 that had us ahead of the rate at one point. Ranjan in particular played very well for his 51 looking every bit as good as the Broomhall first teamers as he flayed their bowling to all parts.
Superior first change bowling lowered the scoring rate and though all PCC's batsmen got in only Kannan (38) and Nitin (26) went on as we finished on 179 for 7. It was actually a good batting effort that would represent a good total in Grade 4 but was never likely to challenge the massive Broomhall total.
The hosts kindly provided a post game BBQ which was well received and the hope is for a post season re match in Aberdeen (after we have secured the services of Tendulkar and Pietersen to bolster our batting)...
Submitted by
delrick
on 17 April 2011 - 6:46pm.