Classy Cullis too good for a weakened Ellon 2nds...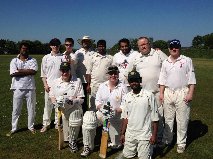 Sheddocksley was host to Portcullis's first cup game of the 2012 season. The sun was hammering down on a much changed wicket from that of two weeks ago which then was almost deemed unplayable. However it was quite the contrary as the wicket proved to offer help to seam and spin.
Portcullis captain Kannan won the toss and wisely elected to field. The whole Portcullis team were raring to go and started very sharp with the opening bowlers Jay and Dave Mitchell putting the Ellon opening batsmen on their toes, and they couldn't handle the swing and pace of Dave Mitchell as Ellon's H.Patterson was sent walking after just two balls. Dave continued the pressure and soon was rewarded with another wicket after an edge to Cullis Keeper Kannan. Things then couldn't get worse for Ellon as they lost their promising looking batsmen to a catch at mid-on again off Dave Mitchell picking up his third. Kannan decided to change up the bowling attack and brought on talented looking spinner Antony (Swanny) Padmaraj, who's quality deliveries produced two wickets one due to a splendid catch from Ronnie Falconer at square leg, and one going straight through the batsmen's gate and dislodging his middle stump. Dave Mitchell was not finished however and completed his fiver with two more wickets and looked unplayable at times. Ronnie Falconer then finished of Ellon's 9th and final batsmen with a half track pie which was creamed in the air only for Dave Mitchell to be waiting under it. After Portcullis's splendid performance in the field they still had to bat on a wicket that was favouring the bowlers so the game was by no means over.
Mo Farooq and Dave Forbes opened the batting for Portcullis and started with caution as Farooq only hit one four off the first over. Farooq and Dave stuck in there for 8 overs scoring runs at a steady rate until Dave was bowled for 8. By this time Farooq had got his eye in and decided to let fly scoring 4 fours and 3 sixes taking Portcullis over the line to a fairly comfortable victory and sending them to the next round of the cup. Farooq finished on 44 not out and ended it in just 11.5 overs. Having had a great start to the season Portcullis can only hope they can keep up this promising run of form and push for promotion this year and a cup victory.
Submitted by
delrick
on 5 June 2012 - 5:44pm.